Ancient One
Razorwood
Bristlecone Dive
Splinter Cemetery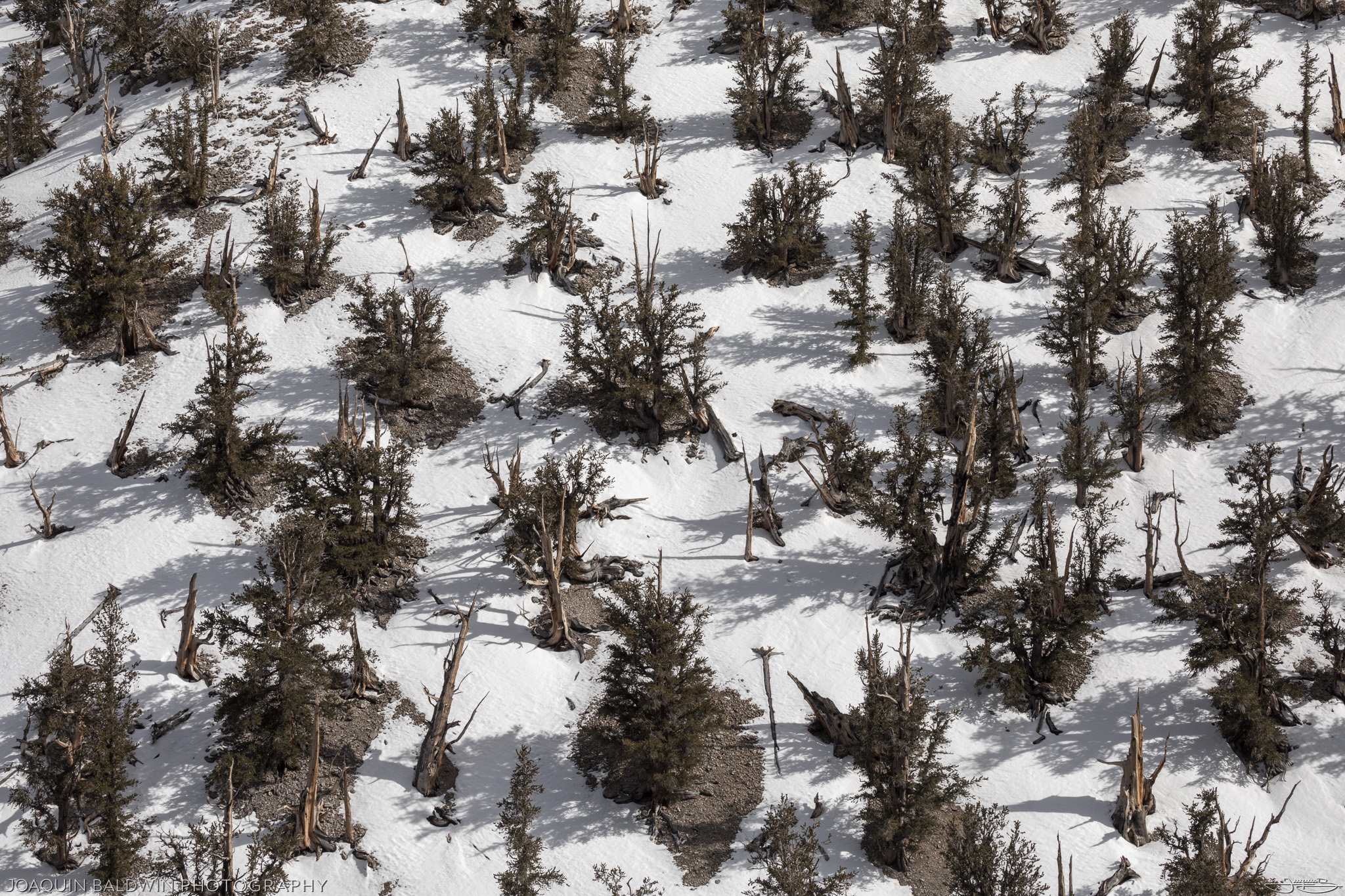 Grove of the Ancients
Frigid Embryo
Blue Cradle
Bristlecone Tendrils
Dark Lightning
Elderfog
Frigidity
Glaurung's Scales
Macro Cordyceps
Niflheim
Pine Slug
Shard of Andúril
The Erasure
Antediluvian
Ancient One
Ancient bristlecone pine witnesses yet another sunset, isolated on the cliffside where it has resided for thousands of years, at the Ancient Bristlecone Pine Forest, California. This famous 3000+ year old tree at the Ancient Bristlecone Pine Forest has been photographed countless times, but I found a new angle by shooting with the telephoto and extender at 800mm, from very far away. Mt. Williamson looms behind it, warmed by the last glow of sunset. This photo has become one of my personal favorites. It's a clean composition, of an interesting subject, with a new perspective and, during a moment where the light and the climate where ideal for the photo. It also took planning: I snapped a similar photo the day before, and though it was very good I knew I could do better, so the next day I planned my composition changes and camera settings before returning, to minimize any chance of mistakes.
Razorwood
Shattered bristlecone pine sets up a pike defense against the incoming cavalry, at the Ancient Bristlecone Pine Forest, California. This image was more of an afterthought, I snapped it while walking around because the pointy shapes caught my eye, but I didn't expect it to work well in a composition. I found that simply by cropping with a tilted horizon line I was able to balance the image, and that there was a lot of cloud detail to recover that I hadn't expected to find. Color was completely unnecessary and distracting.
Bristlecone Dive
Diving from an ancient bristlecone pine, a mountain bluebird (Sialia currucoides) lets its translucent wings shine in front of a bright sky, at the Ancient Bristlecone Pine Forest, California. I took notice of the spots the bluebirds frequented, so I set to find a composition using this elderly log, which is likely several thousand years old. The wood is from a dead tree, sitting on top of a rocky hillside 10,000 feet above sea level. I waited uncomfortably for the birds to return, sitting on the cold, sharp rocks. Several of them came by, males and females, briefly pausing on top of the log and taking off in different directions. I kept my aperture sharp, since I did not not in which direction they would fly off, and I wanted to get a sharp picture in mid-air.
Splinter Cemetery
A distant hillside holds the remnants of thousand-year-old trees at the Ancient Bristlecone Pine Forest, California. When we arrived at the Patriarch Grove, the whole area was dark, despite sunset being an hour away. Snow was falling and fog was rolling in from the east. I was taking pics in the fog but also hoping for a break with clean light. While I hiked through the trail that leads around the Patriarch tree (the largest bristlecone pine found), the clouds cleared and revealed a hillside far away, covered in dead trees. For just a few seconds, a beam of light hit the top of the hillside, shining a soft warm gradient with a sharp edge on top. I framed the photo with the little blotch of snow at the bottom to balance the composition.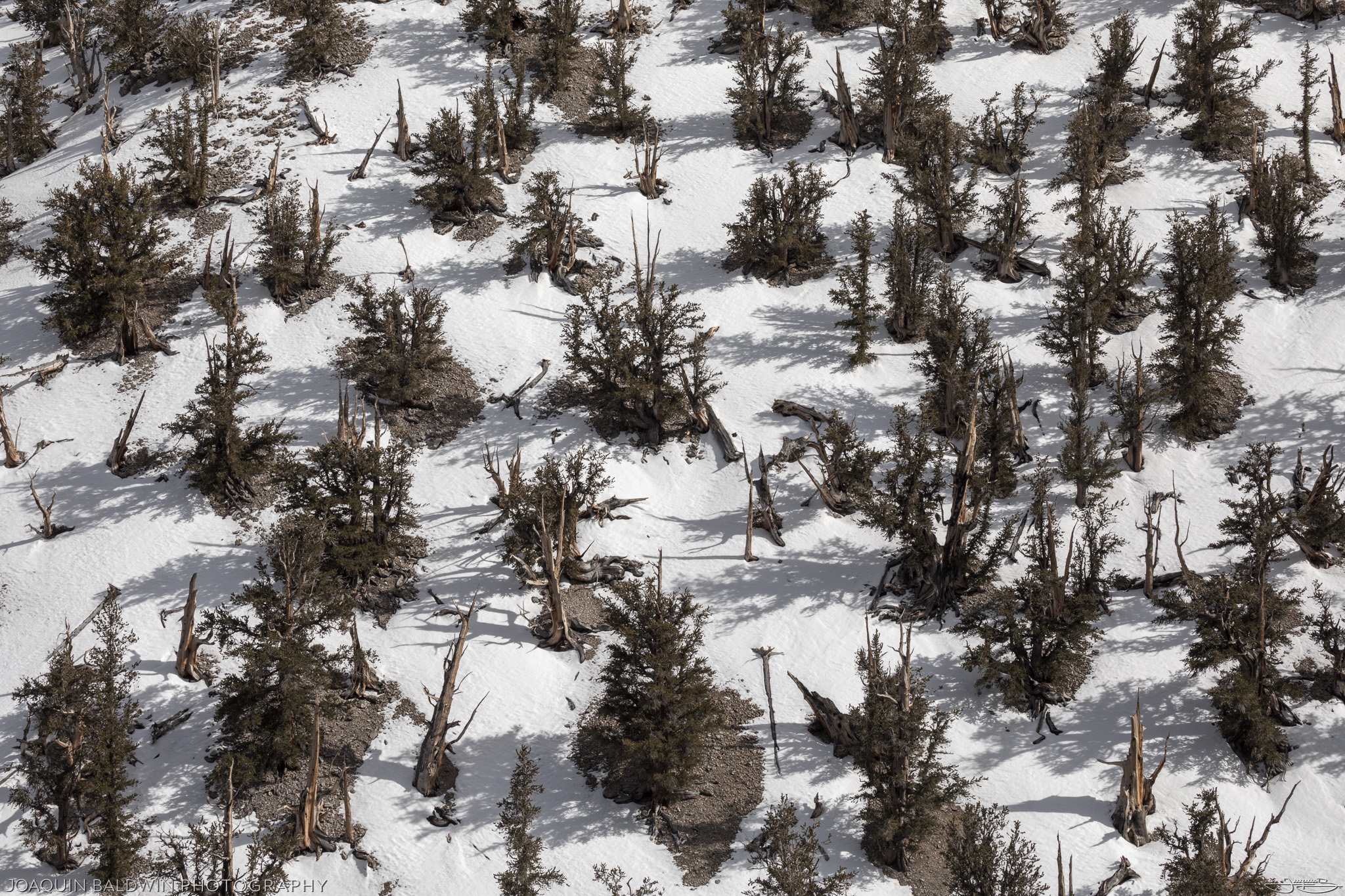 Grove of the Ancients
Frigid Embryo
Cold bristlecone pine cone melts the snow around it, hoping to get started on the long road towards being a 5,000 year old tree, at the Ancient Bristlecone Pine Forest, California. I was climbing a hillside with trees several thousands year old and saw this cone on the melting snow. It was totally isolated over the clean white, probably fell overnight and the darker color helped absorb sunlight to melt the snow around it a bit faster.
Blue Cradle
Bristlecone Tendrils
Remnant tendrils of a bristlecone pine, covered in fog, at the Patriarch Grove of the Ancient Bristlecone Pine Forest, California. I did two short hikes at the Patriarch Grove, the first one was in the falling snow, the second one (just 30 minutes later) was in the fog. I thought that a lot of these foggy pictures wouldn't be clear enough, but there is a lot of detail that can be recovered in the background.
Dark Lightning
Elderfog
Frigidity
Glaurung's Scales
Macro Cordyceps
Niflheim
Pine Slug
Twisted through thousands of years, a bristlecone pine rises its gnarly branches towards a stormy sky, at the Ancient Bristlecone Pine Forest, California. This tree was on the road to the Patriarch Grove, on the Ancient Bristlecone Pine Forest. The grove was inaccessible due to snow, but we got half-way there and found an area with dozens of gnarly trees and some fresh, untouched snow. Some can see a creepy face on the side of this tree, to me it looks more like a demonic slug.
Shard of Andúril
The Erasure
Antediluvian
1
2
3
4
5
6
7
8
9
10
11
12
13
14
15
16
17
18
·
·
·
·
·
·
·
·
·
·
·
·
·
·
·
·
·
·